My Story

Tokens

2007 New York Toy Fair

WCTQ 2007 Wing Ding
---
The Story behind Countryopoly
I am Bonnie Beiler from the Tampa Bay area. I'm a single mom and a cleaning lady (yes, you read that right), a real down-to-earth cleaning lady, working 6 days a week, mopping floors and cleaning those dirty commodes (you get the picture!). Just for the record...I've been cleaning for 36 yrs!
One Friday a few years ago, I had a day off. I got to thinking, "I LIKE THIS." (Don't ever give your cleaning lady a day off - she might get to thinking.) Remember the book, "Think and Grow Rich?" Well I got to thinking why was there never an opoly game made featuring guitars, banjos, etc. I went to an invention company. They did the patent search and showed that I was indeed free to pursue my idea.
I was with the invention company for 2 years. But I changed the game (the title, etc.) so many times that the 2 years were up before I knew it, and I was nowhere near getting the game made. It was then I decided that maybe I could just get the game made myself. I found a great game company in Michigan who made 2,500 games for me. I had to put my house on the line, but I got my game made!
I've been asked by Hasbro to please change the houses and hotels. (If it weren't for bad luck, I'd have no luck at all!) On the next batch of games they will be changed to something very unique, so unique it has never been put on a boardgame before! A few other things about the game will also be changed to make it even more fun and exciting to play Countryopoly!
I have 2 toll-free numbers and a calling center set up to take the calls. I have the trademark for Countryopoly. The game can be purchased here on my website, or by calling 1-877-443-3429 or 1-888-202-5584.
We recently advertised on WABCRadio.com in NYC and at the Sean Hannity Freedom Concert Event in NJ. We received a tremendous response! I know a lot about country music, and I KNOW the market is huge! I'm seeking funding so I can remake the game and get it in stores.
My dream is hanging up those cleaning rags for good. Actually (since I am 100% an entrepreneur), I would not hang them up. I would probably sell them on EBay!
Here's to the success of Countryopoly!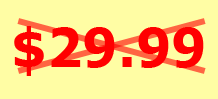 $9.99!